July Start For Yacoubou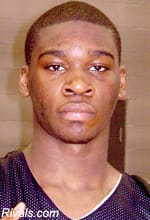 High school graduation is right around the corner. For most soon-to-be graduates that means summer break leading up to college starting in August.
For many students headed to a Division I college on an athletic scholarship, it means a few weeks off and then the start of summer school at their future institution. One of those athletes is Villanova-bound shooting guard Achraf Yacoubou of Long Island Lutheran (NY).
"I think I gotta be down there, I'm going July 1st," Yacoubou said. "I gotta be down there for second [summer] session because in New York we end school very late."
Most of the Villanova basketball players will begin summer school on June 1st, but Yacoubou does not graduate until June 11th. The 6-foot-4, 205-pounder provided his thoughts about the final weeks of high school and the start of college.
"It feels very good," Yacoubou said. I'm trying to embrace [it] because this is my last year of high school so I'm trying to embrace it a day at a time and then move on. So, I can't wait to get up there."
Yacoubou is unsure of who he will be rooming with when he gets to VU, but he has been in touch with the other Villanova signees in his class.
"Yeah I talk to them a lot," Yacoubou said. "Like, I was talking to Tyrone [Johnson] and Darrun [Hilliard] yesterday. I try to keep in touch with them so we can build a bond and make an impact."
Villanova already has three commitments in the class of 2012 and Yacoubou knows one of them quite well.
"I mostly talk to Savon [Goodman] sometimes," the Bronx native said. "I'm really close to him."
As for current and ex-Wildcats, Yacoubou said, "I talk to James Bell [and] I talk to Corey Fisher sometimes. That's about it really."
Needless to say, Yacoubou has also been in touch with members of the Villanova coaching staff.
"They [have] been saying just finish school strong and . . . just be down there second session because we graduate so late," Yacoubou said.
Asked which VU coach he has been in touch with the most, Yacoubou replied, "I talk to-I can't really say who I talk to the most-I talk to [Keith] Urgo and [Jason] Donnelly the most. I talk to those two the most and I talk to Jay Wright here and there."
Speaking of Jay Wright, Yacoubou discussed the coach's name being mentioned for the Maryland job.
"To tell you the truth I didn't know about it until he told me himself because I was texting him to see how he was doing and he [brought] it up to me," Yacoubou explained. "He said Maryland was trying to get him but he likes Nova and he's gonna stay so don't worry about it, and I was like, 'Alright.'"
Yacoubou provided his expectations for his first year on the Main Line, in terms of both basketball and academics.
"My expectations, I wanna do whatever it takes to help the team win, do very well in school, get very good grades in school and work very hard at winning Big East Freshman of the Year, Rookie of the Year," said the ranked #126 player in the final Rivals 150 for the class of 2011.
As for what the coaches are expecting of him, Yacoubou remarked, "They expect me to just come in and play hard and like I said, just do whatever it takes to help the team win and play a lot of defense."
What does Yacoubou think the Wildcats are capable of accomplishing his first year on the team?
"My freshman year, I think . . . we're gonna prove a lot of people wrong and win a lot of games because we're starting off with a new slate and everyone that's coming in is gonna work hard and I feel there's not a lot of pressure on our backs this year," he said.
Yacoubou noted that he was recruited to Villanova as a shooting guard, and while that is where he thinks he is best suited, it is not the only spot on the floor he is comfortable playing.
"I fit, I think I fit best as a shooting guard, but I can play point guard too if the coaches want me to," Yacoubou said. "I see myself as more of a combo guard because I improved my handle and everything, worked on that stuff."
Yacoubou averaged 20 points and just under 10 rebounds per game at LuHi his senior season, one in which the team was quite successful.
"Our record was 21-4," Yacoubou said. "[We] won the state championship. We beat Jamesville-DeWitt and then we beat St. Mary's and they were 29-0."
Before putting the phone down, Yacoubou had one final remark, "I'm just glad to be a Wildcat."